Infants and Toddlers
Infant Massage Class for Parents of Preemies or Very Young Infants
This 4-week class is designed especially for young infants under the age of 12 weeks or infants who were born prematurely and/or who have medical or special needs. Each week parents will learn how to massage different parts of their baby and how to adapt those strokes to meet their child's individual needs. This class has a slower pace to support the babies' immature nervous systems. Parents will also have an opportunity to meet other parents with similar challenges and exchange ideas. The class is open to infants' ages 6 weeks to 12 months and their caregivers. This class is open to babies of ALL abilities!
INSTRUCTOR: Robin Hoffman, OTR/L, CIMI
DATE & TIME: Wednesdays, 11:00am – 12:00pm
Session 1: January 9th – January 30th
Session 2: February 6th – February 27th
Session 3: March 6th – March 27th
COURSE FEE and MORE INFORMATION
Cost: $85 per family, all materials included. Caring Connections Family Support Grant money may be available to cover the cost of registration.  Contact us today at 303-433-0852  or click on the session links above to register!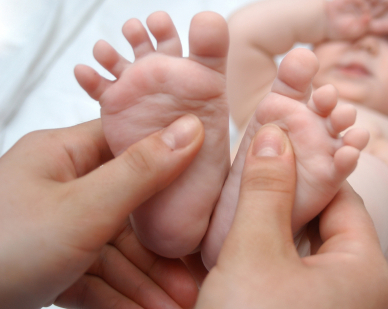 ---
Roly Poly Class: Gross Motor Class for Infants
2019 Winter/Spring 4-Week Sessions
For ages 3 months- pre walkers
Led by physical therapist, Kendra Colyer, this class is designed to teach parents the skills they need to develop their child's gross motor skills through the first year of life. The class will provide parents with tools to help their child develop balance, coordination,strength, and postural awareness with new gross motor skills. Each week will introduce new movement patterns in a small class environment. Parents are encouraged to ask specific questions as each child will receive individual attention by a developmental expert. Specialty topics addressed each week! Stay for the whole series to learn!
INSTRUCTOR: Kendra Colyer, PT, DPT
DATE & TIME:
Tuesdays, 11:30 am- 12:15 pm
COURSE FEE: $65 for 4-week session
Contact us at 303-433-0852 to register or click on the session links above to register yourself online!
---
FREE Preemie Infant Massage Class
 Open to all families in the community and recommended for infants 6 weeks to 8 months old.
INSTRUCTOR: Newly trained infant massage instructors
DATES & TIMES: 
Session 1: Saturday, February 23, 2019  2:00 pm – 3:00 pm
Session 2: Sunday, February 24, 2019 2:00 pm – 3:00 pm
Join us for a FREE infant massage class during our Certified Infant Massage Instructor Training. Our newly trained instructors will teach you how to massage your baby and share the benefits of massage with you and your little one.
Babies will:
Have reduced colic, gas & congestion
Be calmer & sleep better
Show improved motor skill development
Develop strong attachments with their parents
Parents will:
Improve their ability to read their baby's cues
Communicate more effectively with their baby
Develop confidence in their parenting skills
Reduce their stress
Improve their own sense of well-being
CLASS SUMMARY
Babies and parents alike benefit from this tradition that has been practiced around the world for centuries and is now being rediscovered here in the United States.
MORE INFORMATION
Both parents and adult family members are welcome to attend. Please bring a towel or blanket and a change of clothes for your baby. Also be prepared to feed your child as infants often get hungry after a massage. Registration is required. Please register online by clicking on the session links above or contact our office at 303-433-0852!